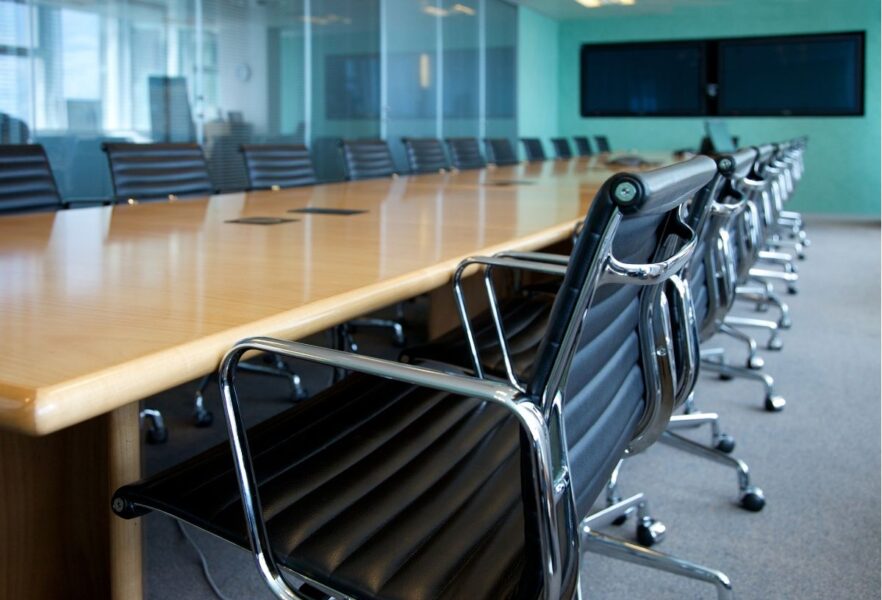 Initiative Focused Strategies Create Alignment and Growth for Home Health & Hospice Agencies
Your Seat at the Table: Age-Friendly Care at Home
By Daniel Stephens and Dan McPhilemy
There are many ways to grow your in-home care organization. Beyond the basics like referral source targeting, routing, and messaging- is Initiative Focused Growth Strategies. Whenever a referral source and an in-home care provider (home health, hospice, home care, palliative care, DME, home infusion therapy, pharmacy) can connect and collaborate on a shared clinical initiative – there is an opportunity for simultaneous improvements in quality, patient experience and satisfaction, and referral growth.
Traditionally, in-home care providers are not part of health system initiatives, making it harder for organizations to prove their value and generate demand for their services. When you do connect with your referral sources and change the conversation about the challenges, needs, or troubling metrics of the community you both serve, the conversation transforms from features and benefits to enacting real change.
Here are a few examples of Initiative Focused Growth Strategies we've seen in the past: 
The partnership of a SNF, Hospital, and Home Health company targeting heart failure readmission rates. The hospital had an interdisciplinary committee meeting about reducing re-admissions for heart failure (around 27%). The meeting spurred creative solutions like direct from home admission to SNF instead of ED using a dedicated triage referral line. That meant – If they got sicker on home health, there was a trusted way to send them to a SNF instead of back to the ED. The outcome was a 14% reduced readmission rate for the hospital, preferred provider status for the home health and SNF, and increased referrals outside of the initiative from the hospital. The largest payor in the state took notice of the results when looking to reduce their network. Because of the outcomes produced, a better negotiated rate and in-network status while others were eliminated.
A Hospital and Home Health company identified a gap between home health eligibility and the patients that were readmitting. The hospital's readmission rate was good with home health admitted patients but lagging in patients that did not fit the home health eligibility requirements (example: non-home bound high-risk (or advanced) heart failure patients). The hospital could pay the home health agency for visits for non-eligible patients. It allowed the hospital to focus solely on outcomes. Referrals went up, patients created a trusting relationship with the caregivers in the home.
A Large independent physician group participating in risk-based agreements and Medicare bundled payment pilot programs identified gaps in patients readmitting within 72 hours without having any post-acute care. The group teamed up with home health and hospice agencies to create a template for their care navigators to engage with discharged patients within 24 hours of discharge and if needed arrange for expedited care in the home. The result was improved performance in readmission rates and risk agreement measures.
When you change the conversation from what you do, to what you can do together – true partnership and growth can happen.
Age-Friendly Health Systems as an Initiative Focused Growth Strategy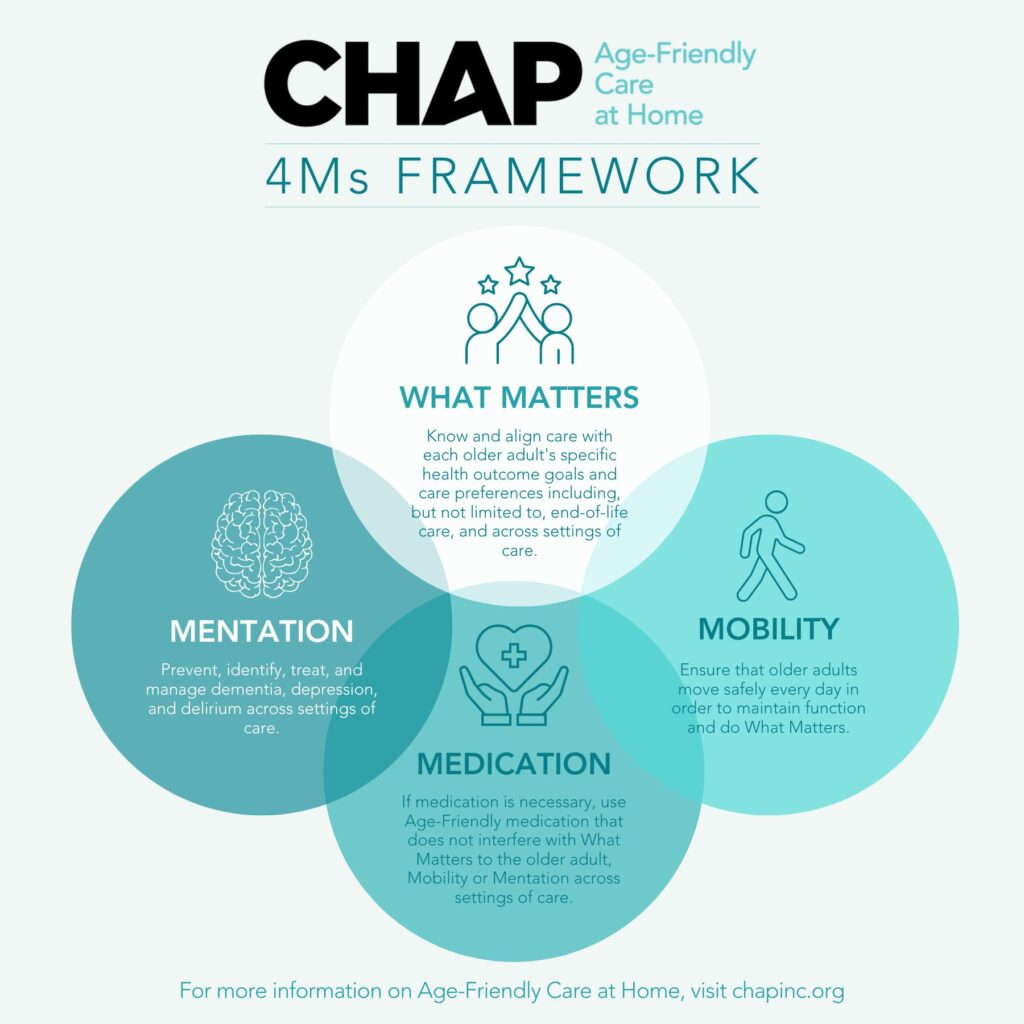 Age-Friendly Care at Home is a great way to create an initiative focused growth strategy with one of the 2,800+ participating health systems. Your ability to be recognized in providing Age-Friendly Care through the 4Ms Framework gives you the opportunity to approach large referral sources and create a plan to collaborate and continue their age-friendly efforts into the home through your care.
CHAP is investing in standards, resources, education, and in 2023 the ability to become Age-Friendly Care at Home Certified along with your accreditation. It's an important investment for CHAP because of the clinical and operational advantages the 4Ms Framework enables.  In addition to reduced healthcare costs and improvement in clinician turnover, Age-Friendly Health Systems is scalable, allowing large providers to adopt the framework easily.
"CHAP has its sights set on a goal to bring Age-Friendly Care and the 4Ms Framework to the home healthcare setting where most older people get their care and for whom we serve. Through various partnerships, we are developing the 4Ms Framework educational tools and resources for community-based care providers to utilize and gain recognition. The design of the 4Ms Framework fits naturally with CHAP Standards, and the review and recognition tasks align with current site visit and award protocols. Participating in this project with the founding organizations of Age-Friendly Health Systems is a distinct privilege and aligns CHAP's quality work with innovation and excellence."

– Dr. Khai Nguyen CHAP National Medical Director
Leveraging your Age-Friendly Care at Home with referral sources gives you:
Higher level of commitment and engagement with your referral sources
Instantly changes your conversations with referral sources from your features and benefits to the shared care you all provide as a team (agency and referral source)
The Outcomes are shared and celebrated together.
The guiding principles to providing Age-Friendly Care is structured around the 4Ms Framework:
What Matters to older people with respect to their goals and preferences when getting treatment, end-of-life care and across settings of care.
Medications that should be avoided or even scaled back as necessary
An emphasis on Mentation to prevent, identify, treat, and manage dementia, depression, and delirium
Mobility to ensure older adults can maintain safe mobility, function, and independence
Learn more about Age-Friendly Care