9/30/22 – Weekly Covid-19 Update
CHAP's COVID-19 Weekly Update
In this "one-stop-shop" update, CHAP will provide a roundup of important COVID-19 information from various federal sources.
All health care providers should be monitoring COVID-19 incidence rates in their state/county on an ongoing basis. The Centers for Disease Control and Prevention CDC provides weekly data about case rates, deaths, testing, and vaccine administration on their COVID tracker webpage.
CDC Data

COVID-19 Variants by region
COVID-19 Variants by region – BA.5 now causes almost 90% of US COVID-19 cases. Estimates of Weighted Proportions of Variants by State/Jurisdiction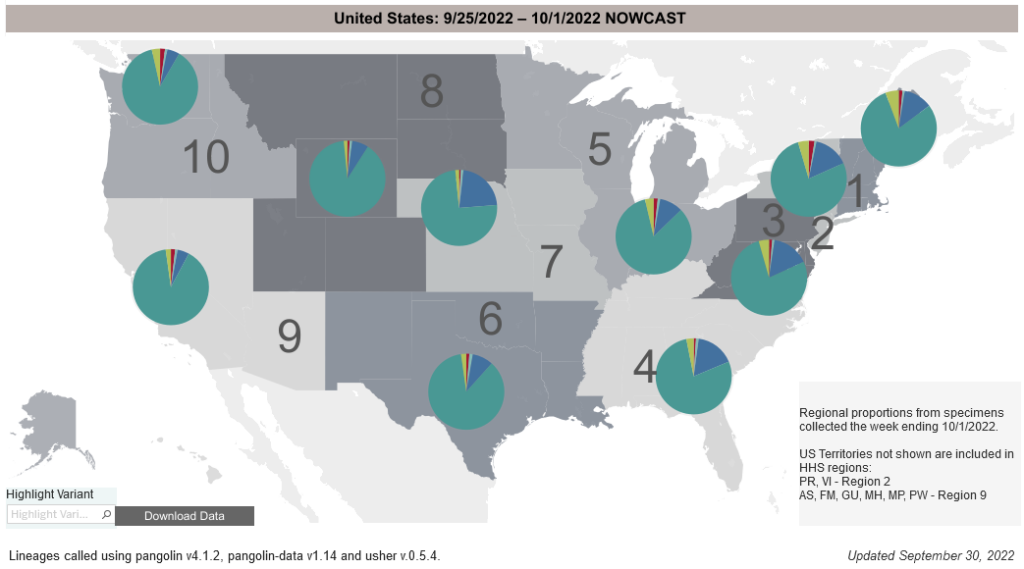 Locate county specific vaccination rates at COVID-19 Integrated County View
Variant Types – Map Key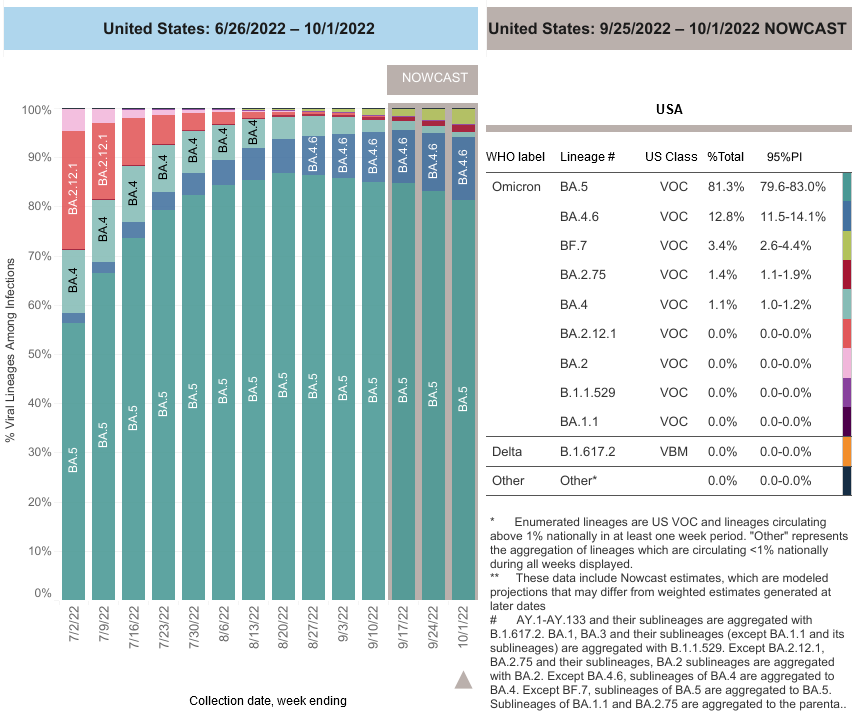 CDC and other Federal COVID-19 Updates:
Updated – Interim Infection Prevention and Control Recommendations for Healthcare Personnel During the Coronavirus Disease 2019 (COVID-19) Pandemic (9/23/22)
Key updates include:
Updated to note that vaccination status is no longer used to inform source control, screening testing, or post-exposure recommendations
Updated circumstances when use of source control is recommended
Updated circumstances when universal use of personal protective equipment should be considered
Updated recommendations for testing frequency to detect potential for variants with shorter incubation periods and to address the risk for false negative antigen tests in people without symptoms.
Clarified that screening testing of asymptomatic healthcare personnel, including those in nursing homes, is at the discretion of the healthcare facility
Updated to note that, in general, asymptomatic patients no longer require empiric use of Transmission-Based Precautions following close contact with someone with SARS-CoV-2 infection.
Archived the Interim Infection Prevention and Control Recommendations to Prevent SARS-CoV-2 Spread in Nursing Homes and special considerations for nursing homes not otherwise covered in Sections 1 and 2 were added to Section 3: Setting-specific considerations
Updated screening testing recommendations for nursing home admissions
Clarified the types of long-term care settings for whom the healthcare infection prevention and control recommendations apply
Infection Control: Severe acute respiratory syndrome coronavirus 2 (SARS-CoV-2) | CDC
FDA Updates COVID-19 Test Policy, Encourages Developers to Seek Traditional Premarket Review for Most Test Types (9/27/22)
The FDA updated its COVID-19 test policy to ensure continued access to tests while encouraging the transition of these important public health tools to traditional premarket review pathways. The updated policy describes the FDA's intent to review only a small subset of new emergency use authorization (EUA) requests for diagnostic tests and encourages developers of all test types interested in marketing authorization to pursue authorization through the de novo classification or 510(k) clearance premarket review pathways.
HHS Announces Initiative to Help Uninsured and Underinsured Americans Access COVID-19 Monoclonal Antibody Treatment (9/23/22)
The U.S. Department of Health and Human Services (HHS) today announced a new effort to help uninsured and underinsured Americans access the COVID-19 monoclonal antibody treatment bebtelovimab even after the product became available on the commercial market last month. Approximately 8% of Americans are not covered by a government insurance program such as Medicare or Medicaid or by private insurance. The Medicare and Medicaid programs fully cover all costs for bebtelovimab treatment, and the therapeutic is likely to be covered under most private health insurance plans.