9/2/22 – Weekly Covid-19 Update
CHAP's COVID-19 Weekly Update
In this "one-stop-shop" update, CHAP will provide a roundup of important COVID-19 information from various federal sources.
All health care providers should be monitoring COVID-19 incidence rates in their state/county on an ongoing basis. The Centers for Disease Control and Prevention CDC provides weekly data about case rates, deaths, testing, and vaccine administration on their COVID tracker webpage.
CDC Data

COVID-19 Variants by region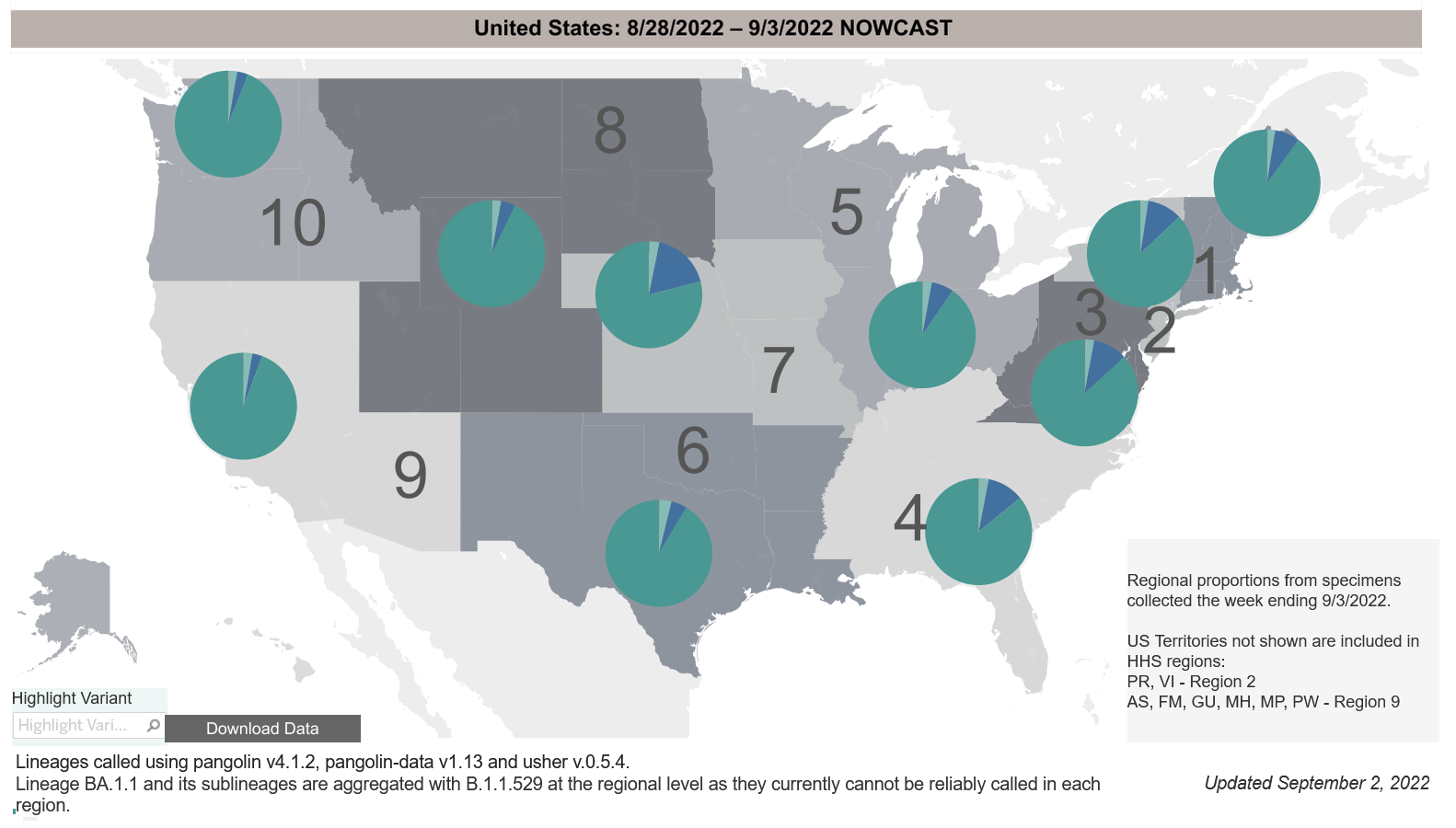 Variant Types – Map Key
COVID-19 Variants by region – BA.5 now causes almost 90% of US COVID-19 cases. Estimates of Weighted Proportions of Variants by State/Jurisdiction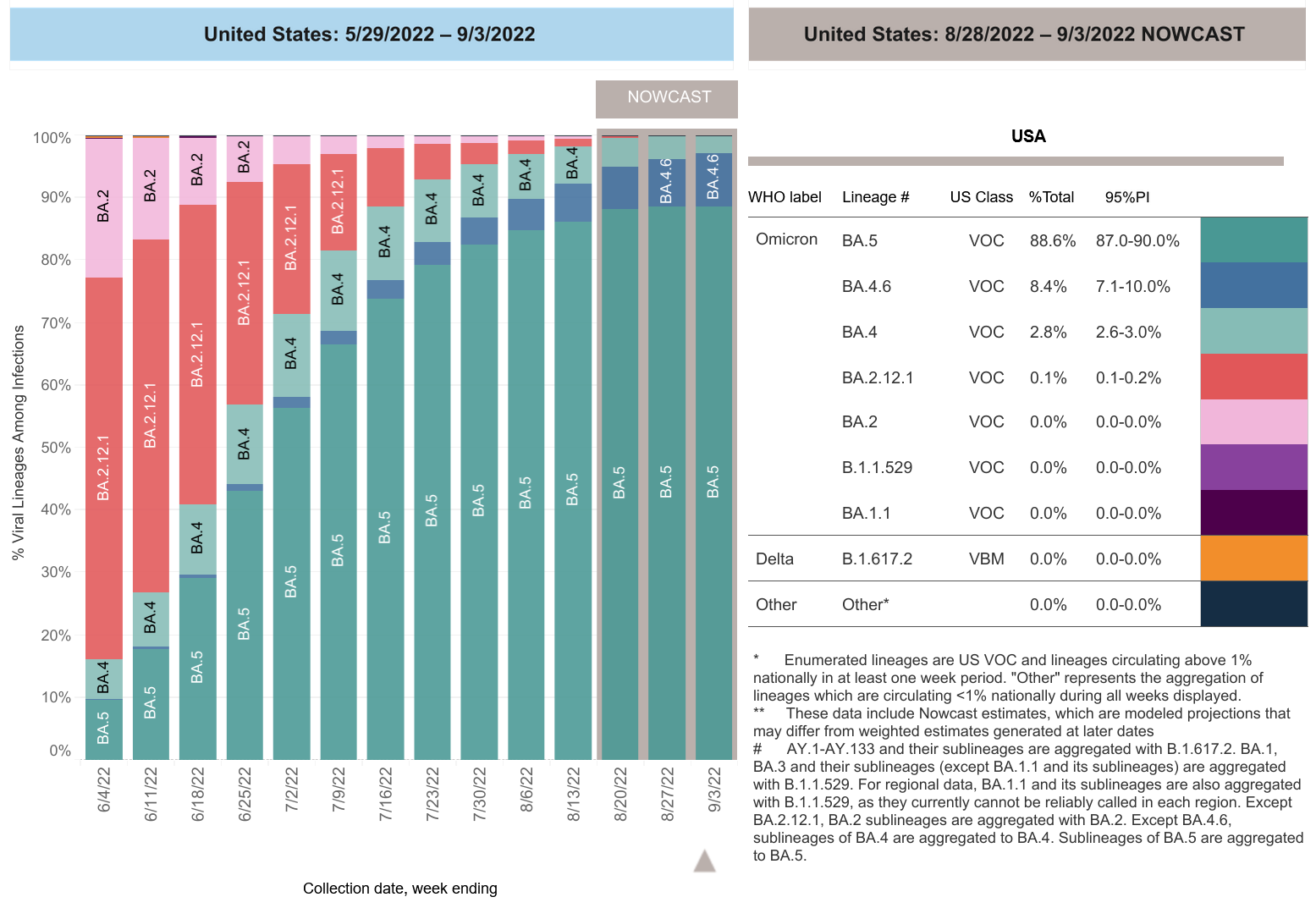 CDC and other Federal Updates
CDC Recommends the First Updated COVID-19 Booster (9/1/22)
The CDC endorsed the CDC Advisory Committee on Immunization Practices' (ACIP) recommendations for use of updated COVID-19 boosters from Pfizer-BioNTech for people ages 12 years and older and from Moderna for people ages 18 years and older.
Updated COVID-19 boosters add Omicron BA.4 and BA.5 spike protein components to the current vaccine composition, helping to restore protection that has waned since previous vaccination by targeting variants that are more transmissible and immune-evading.
In the coming weeks, CDC also expects to recommend updated COVID-19 boosters for other pediatric groups, per the discussion and evaluation of the data by ACIP on Sept. 1, 2022. When data are available and FDA authorizes these other types of COVID-19 boosters, CDC will quickly move to help make them available in the United States.
ASPR Begins Distributing Updated COVID-19 Boosters (9/1/22)
ASPR is working hard to make sure that the American public has access to the best protection available against COVID-19. Yesterday, following the FDA's emergency use authorization of the updated Moderna and Pfizer-BioNTech COVID-19 vaccines for use as a booster dose, ASPR – working in close coordination with our partners at CDC – began distributing millions of doses of the updated booster to tens of thousands of sites nationwide.
People will soon be able to receive – at no charge – their updated COVID-19 booster shot containing an Omicron component. These boosters will be available at tens of thousands of vaccination sites they've used previously, including local pharmacies, their physicians' offices, and vaccine centers operated by state and local health officials.
FDA Roundup (8/24/22)
The FDA provided additional guidance to help prescribers evaluate potential drug interactions when using Paxlovid therapy for COVID-19. Prescribers should review each patient's full list of medications and use other resources to evaluate for potential drug interactions in patients who take medications that are not included on the Fact Sheet or checklist at this time (a listing of additional resources is provided at the end of the checklist). Please see the updated Prescriber Patient Eligibility Screening Checklist for more information.
(8/26/22) – The FDA announced the removal of N95 respirators from the agency's medical device shortage list, signaling that demand or projected demand for this type of face protection device commonly used in health care settings no longer exceeds the supply. This action is the result of increased domestic manufacturing of N95 respirators, as well as updates to the FDA's supply chain assessment based on engagement with industry and federal stakeholders, and the Centers for Disease Control and Prevention's National Institute for Occupational Safety and Health's (NIOSH) approval of new disposable N95s and reusable respirators.
COVID-19 Medical Countermeasures and the Commercial Marketplace (HHS/ASPR, 8/30/22)
Over the course of the pandemic, the federal government has played the central coordinating role in buying, distributing, and ensuring equitable access to COVID-19 vaccines, therapeutics, and tests.  The goal is to transition procurement and distribution of COVID-19 vaccines and therapeutics from a federally managed system to the commercial marketplace in a thoughtful, well-coordinated manner that leaves no one behind.
Biden administration to stop sending free at-home Covid-19 tests Friday (8/29/22)
The government will end its giveaway of Covid-19 at-home tests Friday because of insufficient congressional funding, a senior Biden administration official said Sunday. A stockpile of the tests is being depleted, and officials want to have enough on hand in the event of a fall surge, the source said. The giveaway, which includes tests mailed at no cost to recipients who request them at Covidtests.gov, will end Friday, according to an announcement on the site — unless there's a surprise round of funding from Congress, the source said.