9/16/22 – Weekly Covid-19 Update
CHAP's COVID-19 Weekly Update
In this "one-stop-shop" update, CHAP will provide a roundup of important COVID-19 information from various federal sources.
All health care providers should be monitoring COVID-19 incidence rates in their state/county on an ongoing basis. The Centers for Disease Control and Prevention CDC provides weekly data about case rates, deaths, testing, and vaccine administration on their COVID tracker webpage.
CDC Data

COVID-19 Variants by region
COVID-19 Variants by region – BA.5 now causes almost 90% of US COVID-19 cases. Estimates of Weighted Proportions of Variants by State/Jurisdiction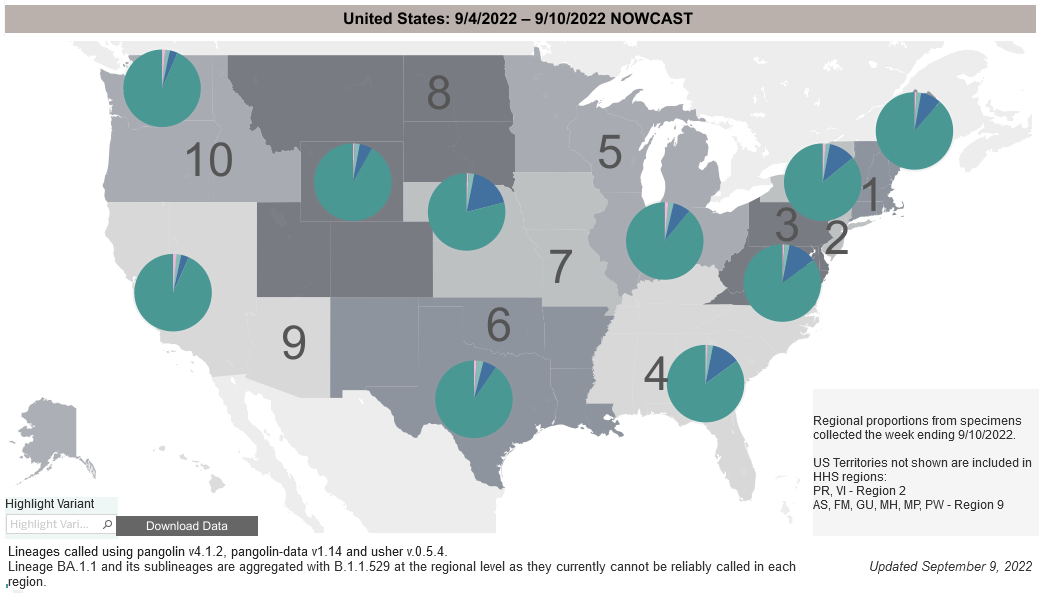 Variant Types – Map Key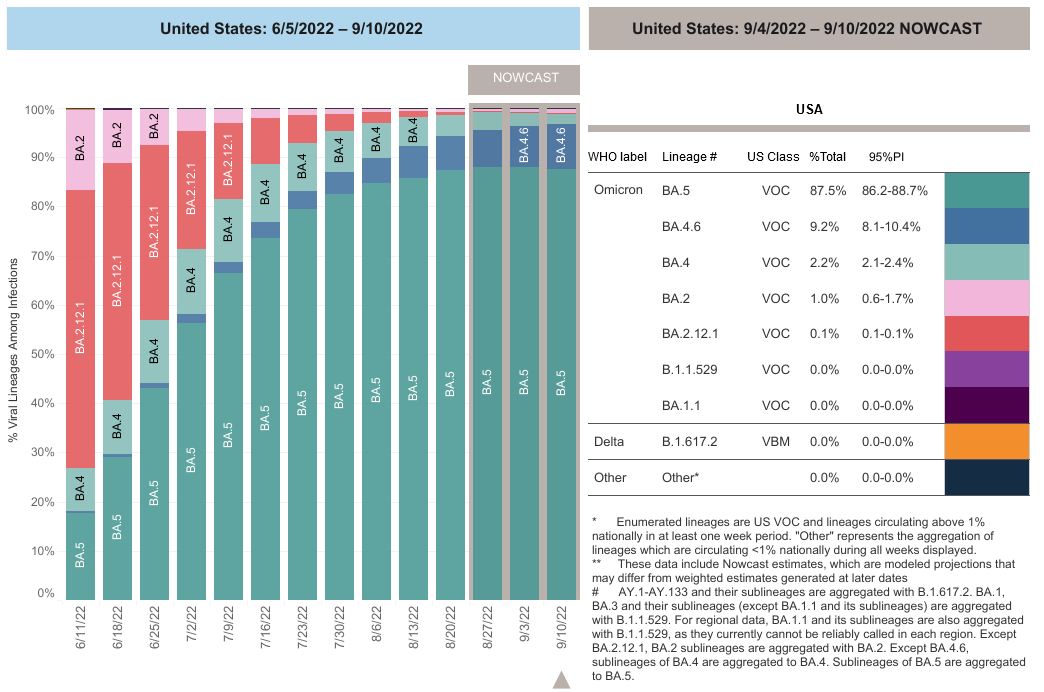 CDC and other Federal COVID-19 Updates:
FDA reissues authorization for Novavax COVID-19 Vaccine (9/13/22)
The FDA reissued the Aug. 19, 2022, letter of authorization for Novavax COVID-19 Vaccine, Adjuvanted to revise the conditions of authorization related to the Vaccine Adverse Event Reporting System (VAERS) reporting requirements for vaccination providers and Novavax, Inc. to include myocarditis and pericarditis. Because some cases of myocarditis or pericarditis following vaccine administration may not meet the definition of serious adverse events, this change will help ensure that cases of myocarditis and pericarditis are reported by Novavax, Inc. and vaccination providers to VAERS. The Fact Sheet for Healthcare Providers Administering Vaccine (Vaccination Providers) has also been updated to reflect this revision to the conditions of authorization regarding VAERS reporting requirements. The letter of authorization and revised fact sheet are available on the FDA's website.
Statement from HHS Secretary Xavier Becerra on CDC's Recommendation of An Updated COVID-19 Vaccine (9/7/22)
In response to the Centers for Disease Control and Prevention's (CDC's) recommendation of an updated COVID-19 shot, U.S. Department of Health and Human Services Secretary Xavier Becerra issued a statement after signing a directive - PDF to ensure the vaccine is widely available. CDC's recommendation followed the Food and Drug Administration's (FDA's) authorization.
Updated COVID-19 Vaccines Providing Protection Against Omicron Variant Available at No Cost (9/12/22)
The Department of Health & Human Services (HHS), through the Centers for Medicare & Medicaid Services (CMS) announced that people with Medicare, Medicaid, Children's Health Insurance Program (CHIP) coverage, private insurance coverage, or no health coverage can get COVID-19 vaccines, including the updated Moderna and Pfizer-BioNTech COVID-19 vaccines, at no cost, for as long as the federal government continues purchasing and distributing these COVID-19 vaccines.
The U.S. Food and Drug Administration (FDA) has authorized the Moderna and Pfizer-BioNTech updated vaccines that target the original COVID-19 viral strain and two Omicron variants (BA.4/BA.5) that are currently the most prevalent in the U.S. Individuals are eligible for their updated vaccine shot at least two months after completing at least their primary vaccination series (two doses of Pfizer-BioNTech, Moderna, or Novavax, or one dose of Johnson & Johnson)—regardless of how many monovalent COVID-19 boosters they have received to date.