8/26/22 – Weekly Covid-19 Update
CHAP's COVID-19 Weekly Update
In this "one-stop-shop" update, CHAP will provide a roundup of important COVID-19 information from various federal sources.
All health care providers should be monitoring COVID-19 incidence rates in their state/county on an ongoing basis. The Centers for Disease Control and Prevention CDC provides weekly data about case rates, deaths, testing, and vaccine administration on their COVID tracker webpage.
CDC Data

COVID-19 Variants by region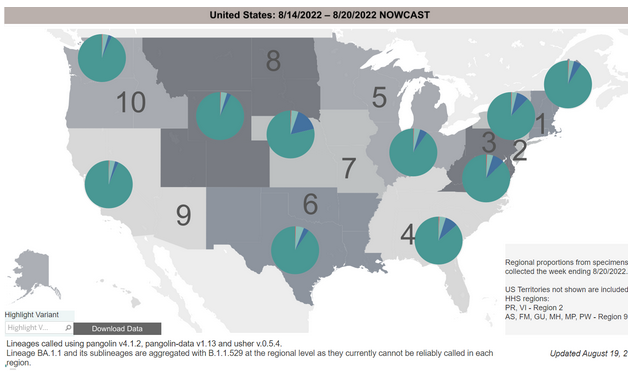 Variant Types – Map Key
Estimates of Weighted Proportions of Variants by State/Jurisdiction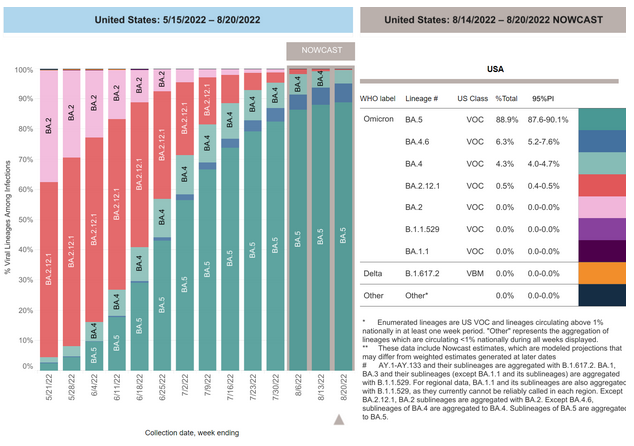 CDC and other Federal Updates
Summary of Guidance for Minimizing the Impact of COVID-19 on Individual Persons, Communities, and Health Care Systems — United States, August 2022 (CDC)
What is already known about this topic?
High levels of immunity and availability of effective COVID-19 prevention and management tools have reduced the risk for medically significant illness and death.
What is added by this report?
To prevent medically significant COVID-19 illness and death, persons must understand their risk, take steps to protect themselves and others with vaccines, therapeutics, and nonpharmaceutical interventions when needed, receive testing and wear masks when exposed, receive testing if symptomatic, and isolate for ≥5 days if infected.
What are the implications for public health practice?
Medically significant illness, death, and health care system strain can be reduced through vaccination and therapeutics to prevent severe illness, complemented by use of multiple prevention methods to reduce exposure risk and an emphasis on protecting persons at high risk for severe illness.
CDC Recommends Novavax COVID-19 Vaccine for Adolescents (8/22/22)
CDC Director Rochelle P. Walensky, M.D., M.P.H., signed a decision memo that Novavax's COVID-19 vaccine be used as another primary series option for adolescents ages 12 through 17. This recommendation follows FDA's authorization to authorize the vaccine for this age group under emergency use.
Posted – Report: FDA's Work to Combat the COVID-19 Pandemic (8/18/22)
Outlines much of the broad range of work the FDA is undertaking to combat the COVID-19 pandemic and prepare for future emergencies.