8/19/22 – Weekly Covid-19 Update
CHAP's COVID-19 Weekly Update
In this "one-stop-shop" update, CHAP will provide a roundup of important COVID-19 information from various federal sources.
All health care providers should be monitoring COVID-19 incidence rates in their state/county on an ongoing basis. The Centers for Disease Control and Prevention CDC provides weekly data about case rates, deaths, testing, and vaccine administration on their COVID tracker webpage.
CDC Data

COVID-19 Variants by region
COVID-19 Variants by region – BA.5 now causes almost 90% of US COVID-19 cases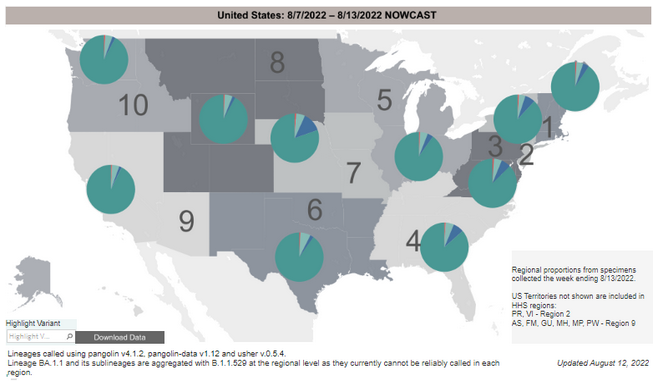 Variant Types – Map Key
Estimates of Weighted Proportions of Variants by State/Jurisdiction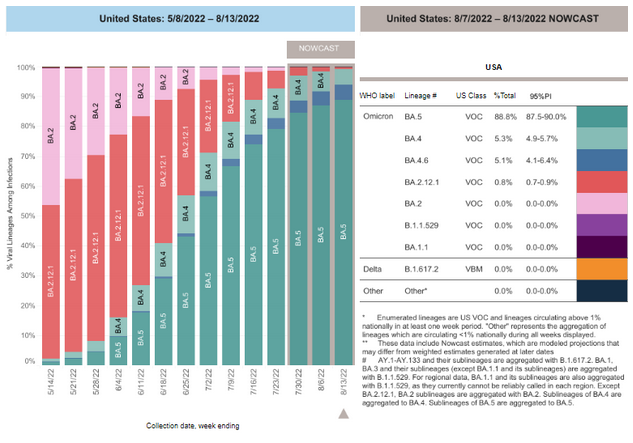 CDC and other Federal Updates
Creating a Roadmap for the End of the COVID-19 Public Health Emergency (CMS, 8/18/22)
Many of these waivers and broad flexibility will terminate at the eventual end of the PHE, as they were intended to address the acute and extraordinary circumstances of a rapidly evolving pandemic and not replace existing requirements. To minimize any disruptions, including potential coverage losses, following the end of the PHE, HHS Secretary Becerra has committed to giving states and the health care community writ large 60 days' notice before ending the PHE. In the meantime, CMS encourages health care providers to prepare for the end of these flexibilities as soon as possible and to begin moving forward to reestablishing previous health and safety standards and billing practices.
CMS has developed a roadmap for the eventual end of the Medicare PHE waivers and flexibilities and is sharing information on what health care facilities and providers can do to prepare for future events. CMS is releasing fact sheets that will help the health care sector transition to operations once the PHE ends, whenever that may occur. The posted by CMS summarize the current status of Medicare Blanket waivers and flexibilities by provider type as well as flexibilities applicable to the Medicaid community. We will continue updating these resources as needed to make sure they can be relied upon for accurate information. Throughout the PHE, CMS has also maintained a list of COVID-19 waivers, but unless otherwise specified in these fact sheets, these waivers will end with the PHE. With this information in hand, we expect that the health care system can begin taking prudent action to prepare to return to normal operations and to wind down those flexibilities that are no longer critical in nature. Review the updated resources for updated information about waiver flexibilities.
Creating a Roadmap for the End of the COVID-19 Public Health Emergency | CMS
CDC streamlines COVID-19 guidance to help the public better protect themselves and understand their risk (8/11/22)
CDC streamlined its COVID-19 guidance to help people better understand their risk, how to protect themselves and others, what actions to take if exposed to COVID-19, and what actions to take if they are sick or test positive for the virus. Highlights of the updated guidance include recommendations related to post exposure, what to do when testing positive and when to isolate if symptoms are present. The guidance also recommends that screening testing of asymptomatic people without known exposures will no longer be recommended in most community settings and that consideration of risk in a particular setting, including local COVID-19 Community Levels and the important role of ventilation, should be factors in assessing the need to maintain physical distance.
FDA – Repeat Home Testing Recommendation (8/12/22)
The FDA issued a safety communication advising people to perform repeat, or serial, testing following a negative result on any at-home COVID-19 antigen test. If repeat testing is not performed after a negative result, an infection may be missed and people may unknowingly spread the SARS-CoV-2 virus to others, especially if they are not experiencing symptoms. The FDA recommends repeat testing following a negative result whether or not you have COVID-19 symptoms.
"The FDA's new recommendations for at-home COVID-19 antigen tests underscore the importance of repeat testing after a negative test result in order to increase the chances of detecting an infection. These recommendations are based on sound scientific evidence and a result of the FDA's collaboration with government and academic partners to assess at-home COVID-19 antigen test performance and ensure public health remains a top priority, particularly as the school season approaches. Throughout the pandemic, we have continued to learn about COVID-19 and the impact of variants on the performance of diagnostic tests designed to detect the virus, and we are committed to keeping the public updated so they can make the most informed health care decisions." – Jeff Shuren, M.D., J.D., director of the FDA's Center for Devices and Radiological Health.