7/8/22 – Weekly Covid-19 Update
CHAP's COVID-19 Weekly Update
In this "one-stop-shop" update, CHAP will provide a roundup of important COVID-19 information from various federal sources.
All health care providers should be monitoring COVID-19 incidence rates in their state/county on an ongoing basis. The Centers for Disease Control and Prevention CDC provides weekly data about case rates, deaths, testing, and vaccine administration on their COVID tracker webpage.
CDC Data

COVID-19 Variants by region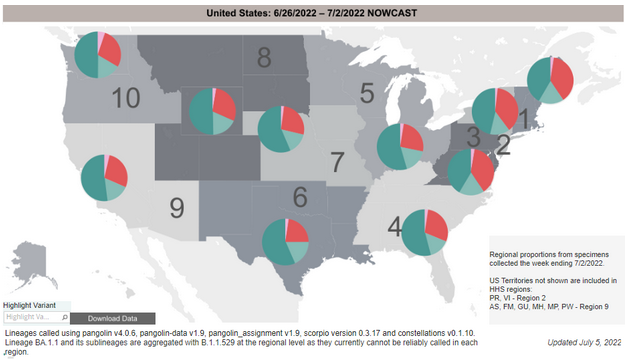 Variant Types – Map key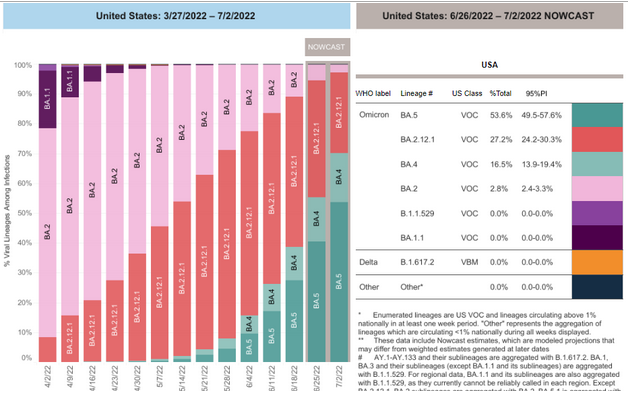 CDC and other Federal Updates:
Coronavirus (COVID-19) Update: FDA Recommends Inclusion of Omicron BA.4/5 Component for COVID-19 Vaccine Booster Doses (6/30/22)
The FDA's independent experts on the Vaccines and Related Biological Products Advisory Committee met to publicly discuss whether a change to the current vaccine strain composition of COVID-19 vaccines for booster doses is necessary for the 2022 fall and winter seasons. 
Vaccine manufacturers have already reported data from clinical trials with modified vaccines containing an omicron BA.1 component and we have advised them that they should submit these data to the FDA for our evaluation prior to any potential authorization of a modified vaccine containing an omicron BA.4/5 component. Manufacturers will also be asked to begin clinical trials with modified vaccines containing an omicron BA.4/5 component, as these data will be of use as the pandemic further evolves.

Biden-Harris Administration secures 105 million doses of Pfizer's latest COVID-19 vaccine for fall vaccination campaign (6/29/22)
HHS), in collaboration with the Department of Defense, today announced an agreement to purchase 105 million doses of Pfizer's COVID-19 vaccine for a fall vaccination campaign, with options for up to 300 million doses. The contract announcement follows a June 28 meeting of the U.S. Food and Drug Administration's (FDA's) Vaccines and Related Biological Products Advisory Committee meeting, which recommended the inclusion of an Omicron component for COVID-19 booster vaccines in the U.S. The $3.2 billion contract includes a combination of adult and pediatric doses with a portion of the adult doses provided as single-dose vials, a first for COVID-19 vaccines. Pending FDA authorization of the vaccine and a recommendation by the Centers for Disease Control and Prevention, HHS could expect to receive the first deliveries of the vaccine in early fall.

OSHA extends National Emphasis Program to protect high-risk workers from coronavirus (6/30/22)
OSHA is extending its Revised National Emphasis Program for COVID-19 until further notice. The program focuses enforcement efforts on companies that put the largest number of workers at serious risk of contracting the coronavirus, and on employers who engage in retaliation against workers who complain about unsafe or unhealthful conditions or exercise other rights under the Occupational Safety and Health Act.
OSHA is also temporarily increasing the coronavirus inspection goal from 5 percent of inspections to 10 percent, while it works to finalize a permanent coronavirus health care standard. The program was set to expire July 7, 2022.

HIPAA flexibility after the COVID-19 public health emergency (6/29/22)
The U.S. Department of Health and Human Services Office for Civil Rights released guidance to help health care providers and health plans bound by HIPAA and HIPAA rules understand how they can use remote communication technologies for audio-only telehealth post-COVID-19 public health emergency. Information in the guidance includes the ability to comply with HIPAA when using remote communications to provide audio-only telehealth services, the need to meet HIPAA rules for electronic protected health information transmitted over electronic media, and when a business associate agreement with a telecommunication service provider is not necessary.
Read more about HIPAA compliance and telehealth (PDF).