7/15/22 – Weekly Covid-19 Update
CHAP's COVID-19 Weekly Update
In this "one-stop-shop" update, CHAP will provide a roundup of important COVID-19 information from various federal sources.
All health care providers should be monitoring COVID-19 incidence rates in their state/county on an ongoing basis.  The Centers for Disease Control and Prevention CDC provides weekly data about case rates, deaths, testing, and vaccine administration on their COVID tracker webpage.
CDC Data

COVID-19 Variants by region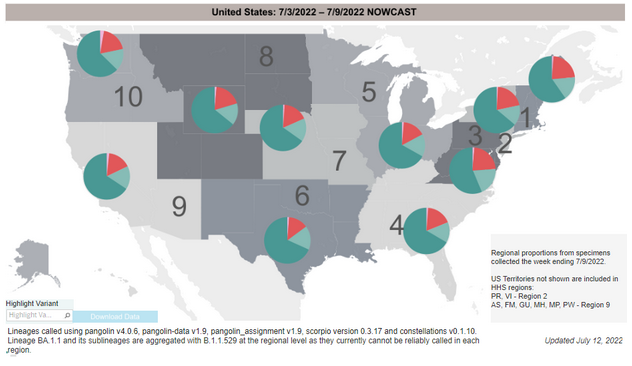 Variant Types – Map key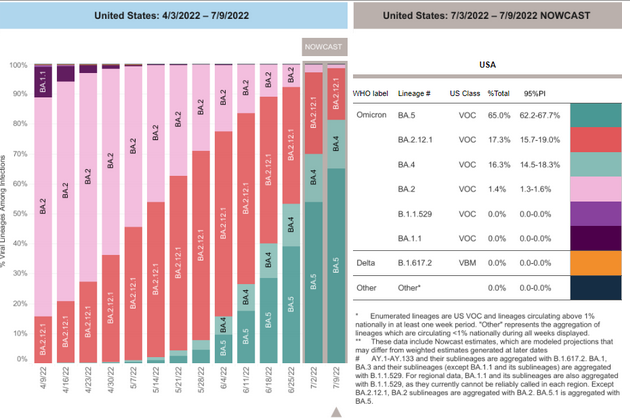 CDC and other Federal Updates: 
COVID-19 Public Health Emergency (PHE) Declaration
The current PHE declaration will expire on 7/15/22.  As of today, there is not update from HHS whether the PHE will be renewed.  Stay tuned for a separate email with additional information as it is available. 
COVID-19 Reverses Progress in Fight Against Antimicrobial Resistance in U.S. (CDC, 7/12/22)
The COVID-19 pandemic pushed back years of progress made combating antimicrobial resistance (AR) in the United States. The report from the Centers for Disease Control and Prevention (CDC), COVID-19: U.S. Impact on Antimicrobial Resistance, Special Report 2022, concludes that the threat of antimicrobial-resistant infections is not only still present but has gotten worse—with resistant hospital-onset infections and deaths both increasing at least 15% during the first year of the pandemic. 
In the report, CDC analyzed the state of antimicrobial resistance in the United States immediately following the 2020 peaks of the COVID-19 pandemic. The data show an alarming increase in resistant infections starting during hospitalization, growing an overall 15% from 2019 to 2020 among seven pathogens. Increases in specific pathogens included: 
carbapenem-resistant Acinetobacter – 78% increase in infections,

 

multidrug-resistant Pseudomonas aeruginosa – 32% increase in infections,

 

vancomycin-resistant Enterococcus (VRE) – 14% increase in infections, and

 

methicillin-resistant Staphylococcus aureus (MRSA) – 13% increase in infections.

 
Antifungal-resistant threats rose in 2020, too, including Candida auris—which increased 60% overall—and Candida species (excluding Candida auris), with a 26% increase in infections in hospitals.  
New Prescribing Authority Could Improve Access for Some Patients at High Risk for Severe COVID-19 (7/6/22)
The FDA revised the Emergency Use Authorization (EUA) for Paxlovid (nirmatrelvir and ritonavir), to authorize state-licensed pharmacists to prescribe Paxlovid to eligible patients, with certain limitations to ensure appropriate patient assessment and prescribing of Paxlovid. "Since Paxlovid must be taken within five days after symptoms begin, authorizing state-licensed pharmacists to prescribe Paxlovid could expand access to timely treatment for some patients who are eligible to receive this drug for the treatment of COVID-19."  

FDA Approves Comirnaty for COVID-19 (7/8/22)
The FDA approved COMIRNATY (COVID-19 Vaccine, mRNA) for active immunization to prevent Coronavirus Disease 2019 (COVID-19) caused by severe acute respiratory syndrome coronavirus 2 (SARS-CoV-2) in individuals 12 through 15 years of age. The approval follows a rigorous analysis and evaluation of the safety and effectiveness data conducted by FDA. The Pfizer-BioNTech COVID-19 Vaccine has been, and will continue to be, authorized for emergency use in this age group since May 2021. COMIRNATY (COVID-19 Vaccine, mRNA) has been approved for use in individuals 16 years of age and older since August 2021. 
Biden-Harris Administration secures 3.2 million doses of Novavax COVID-19 Vaccine (7/11/22)
HHS in collaboration with the Department of Defense (DOD), today announced that it has secured 3.2 million doses of Novavax's COVID-19 vaccine. The protein-based, adjuvanted vaccine will be made available for free to states, jurisdictions, federal pharmacy partners, and federally qualified health centers if it receives U.S. Food and Drug Administration (FDA) Emergency Use Authorization (EUA), and recommendation from the Centers for Disease Control and Prevention (CDC). The company is expected to complete all necessary quality testing in the next few weeks, which would support final release of the product. 
The Novavax COVID-19 Vaccine is designed and manufactured differently than the mRNA COVID-19 vaccines. The Novavax vaccine contains a very small amount of the SARS-CoV-2 spike protein, which elicits an immune response, in combination with an adjuvant, which boosts the immune system response to vaccine. FDA-approved protein-based vaccines have been used widely for decades; examples of more recently approved vaccines that contain a purified protein combined with an adjuvant include vaccines to prevent hepatitis B and shingles. The Novavax COVID-19 Vaccine offers an option to individuals who may have an allergic reaction to mRNA vaccines or who have a personal preference for receiving a vaccine other than a mRNA-based vaccine.