6/17/22 – Weekly Covid-19 Update
CHAP's COVID-19 Weekly Update
In this "one-stop-shop" update, CHAP will provide a roundup of important COVID-19 information from various federal sources.
All health care providers should be monitoring COVID-19 incidence rates in their state/county on an ongoing basis. The Centers for Disease Control and Prevention CDC provides weekly data about case rates, deaths, testing, and vaccine administration on their COVID tracker webpage.
CDC Data


COVID-19 Variants by region
Variant Types – Map key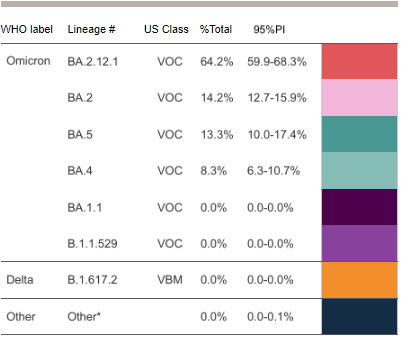 CMS Posts Update – Surveys for compliance with Omnibus COVID-19 Health Care Staff Vaccination Requirements (6/14/22)
CMS's Quality, Safety & Oversight Group posted a Memo on June 14, 2022, which provides guidance for survey oversight of the staff vaccination requirement for Medicare and Medicaid certified providers and suppliers. (Surveys for compliance with Omnibus COVID-19 Health Care Staff Vaccination Requirements (QSO-22-17-ALL)
State Survey Agencies (SAs) and Accrediting Organizations (AOs) will now only be expected to perform compliance reviews of the staff vaccination requirement during initial and recertification surveys and in response to specific complaint allegations that allege non-compliance with the staff vaccination requirement.
SAs and AOs are no longer expected to perform these reviews on every survey.
Accrediting Organizations retain the authority to exceed Medicare requirements, per their accreditation standards.
FDA Update (6/14/22)
The US Food and Drug Administration's independent Vaccines and Related Biological Products Advisory Committee is set to meet Tuesday and Wednesday to discuss amending the emergency use authorization (EUA) of Moderna's and Pfizer/BioNTech's Covid-19 vaccines to include younger ages.
FACT SHEET: Biden Administration Announces Operational Plan for COVID-⁠19 Vaccinations for Children Under 5 (June 9, 2022)
The Biden Administration is announcing an operational plan that will ensure that vaccines—if authorized by FDA and recommended by CDC—are readily available for our youngest kids and that we continue the critical work of ensuring that all families know the benefits of getting their children vaccinated against COVID-19. As the FDA and CDC conduct their independent review processes, the Biden Administration is planning for all scenarios, including for the first vaccinations to start as early as the week of June 20th—with the program ramping up over time as more doses are delivered and more appointments become available.