12/9/22 – Weekly Health Update
CHAP's Weekly Health Update
In this "one-stop-shop" update, CHAP will provide a roundup of important COVID-19, Flu, and other information from various federal sources.
All health care providers should be monitoring COVID-19 incidence rates in their state/county on an ongoing basis. The Centers for Disease Control and Prevention CDC provides weekly data about case rates, deaths, testing, and vaccine administration on their COVID tracker webpage.
COVID-19 CDC Data

COVID-19 Variants by region
Estimates of Weighted Proportions of Variants by State/Jurisdiction
County specific vaccination rates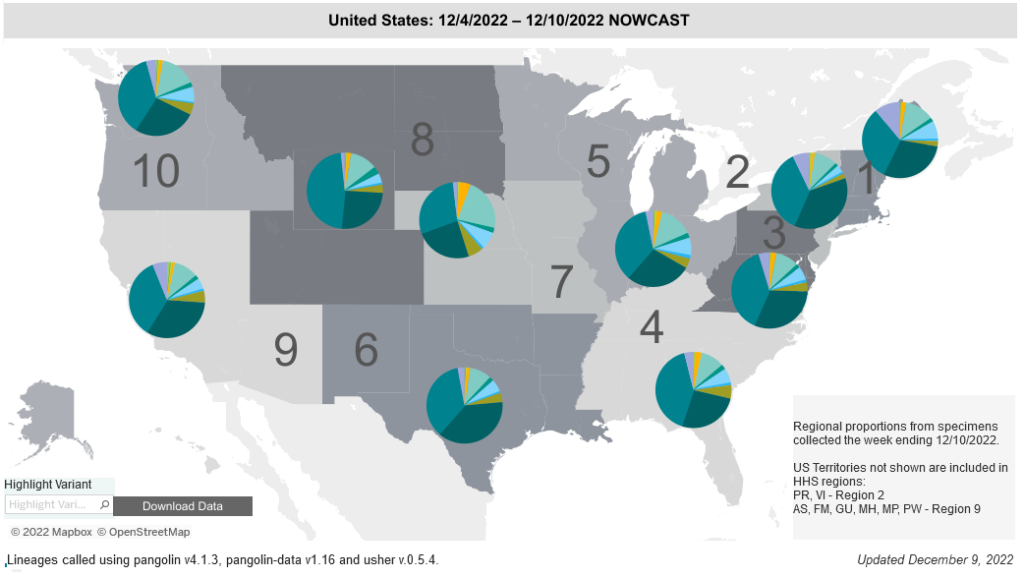 COVID-19 Variant Types – Map Key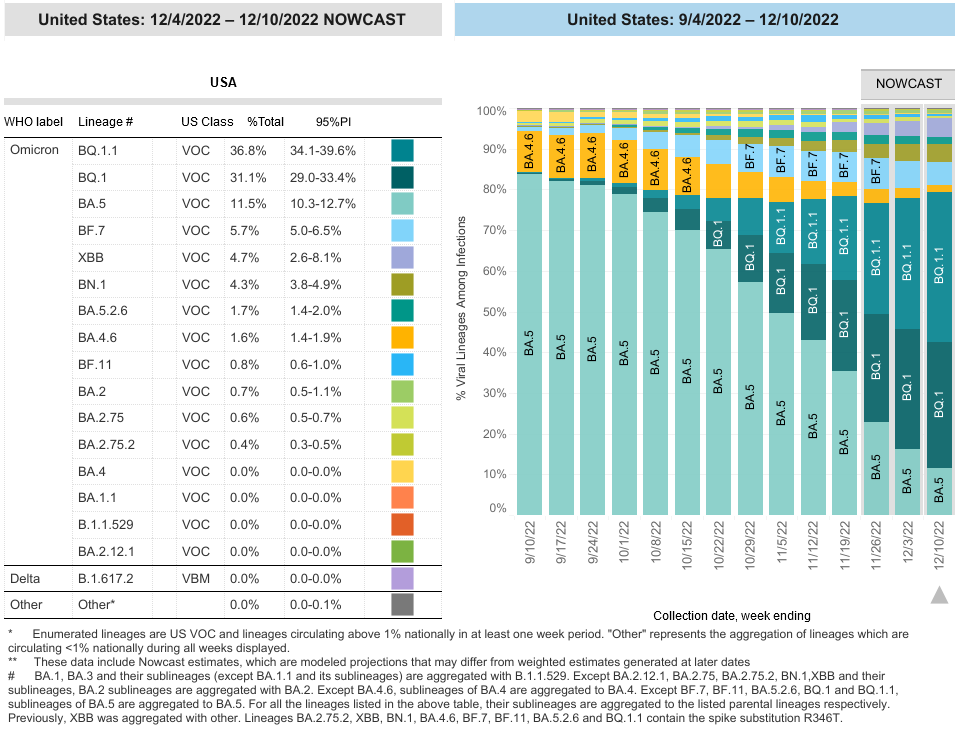 CDC and Other Federal Health Updates
Respiratory illnesses are hitting U.S. hard (12/6/22)
STAT's Helen Branswell has this report: The U.S. is socked in with respiratory illness outbreaks, with 47 jurisdictions reporting high or very high levels of influenza-like illness activity, the CDC reported yesterday. Hospitals across the nation are struggling to cope with people sick with flu, respiratory syncytial virus (RSV), and Covid-19, CDC Director Rochelle Walensky said during a press conference called to urge people who haven't yet done so to get a flu shot and a Covid booster and to consider wearing well-fitted masks to reduce the chances of getting infected.
Walensky said the CDC is seeing evidence of Covid infections rising after the Thanksgiving holiday. RSV levels seem to have peaked in the South and Southeast and may be leveling off in the mid-Atlantic, New England, and Midwest regions. Walensky noted that flu shot uptake is lower so far this year in some key demographics, with a 12% drop in pregnant people in comparison to last year, and a 5% drop in children under the age of 17.
Meta-analysis estimates 29% vaccine effectiveness against long COVID (12/6/22)
A meta-analysis of six studies estimates that one dose or more of COVID-19 vaccine is 29% effective against symptoms persisting for at least 3 weeks after infection, or long COVID.
The authors said the results suggest that COVID-19 vaccines are more effective against persistent symptoms when given before infection, although recipients of post-infection doses also had some protection.
42% of US adults likely have had COVID, but almost half of them say they didn't (12/2/22)
Serologic testing of US adults finds that nearly 42% have SARS-CoV-2 antibodies indicating previous infection, but about 44% of them said they never had COVID-19, according to a study published today in Morbidity and Mortality Weekly Report.
Seasonal CDC FluView Data (2022-2023)
Note the state in dark blue and red that have very high flu rates at this time. Please take proper infection control actions in these areas.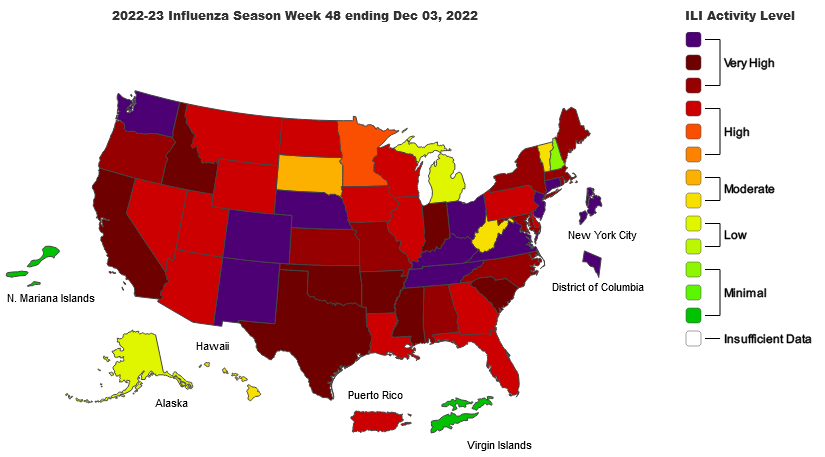 Source: Centers for Disease Control and Prevention, National Center for Immunization and Respiratory Diseases (NCIRD)
44 states experiencing high levels of respiratory illness (12/3/22)
Respiratory illness is on the rise across the United States, with 44 states now experiencing high levels amid a worsening flu season. The Centers for Disease Control and Prevention (CDC) reported that 31 U.S. jurisdictions, which include territories and Washington, D.C., had "very high" levels of respiratory illness and 16 jurisdictions had "high" levels last week. Only 19 jurisdictions had very high levels and 17 jurisdictions had high levels the week before.
Only New Hampshire, Vermont, Michigan and Alaska have a minimal or low level of illness. West Virginia and Hawaii have moderate levels.
Eleven states, including California, Texas and Virginia, are experiencing the highest level of respiratory illness activity.
HHS to end public health emergency for monkeypox in January, 2023
The Biden administration announced Friday it will lift its public health emergency declaration for mpox, following a steady decline in cases that has convinced officials the outbreak is under control.
The Health and Human Services Department issued a formal notice saying it will wind down the emergency in 60 days, putting it on track to expire by Jan. 31.