12/2/22 – Weekly Health Update
CHAP's Weekly Health Update
In this "one-stop-shop" update, CHAP will provide a roundup of important COVID-19, Flu, and other information from various federal sources.
All health care providers should be monitoring COVID-19 incidence rates in their state/county on an ongoing basis. The Centers for Disease Control and Prevention CDC provides weekly data about case rates, deaths, testing, and vaccine administration on their COVID tracker webpage.
COVID-19 CDC Data

COVID-19 Variants by region
Estimates of Weighted Proportions of Variants by State/Jurisdiction
COVID-19 Variant Types – Map Key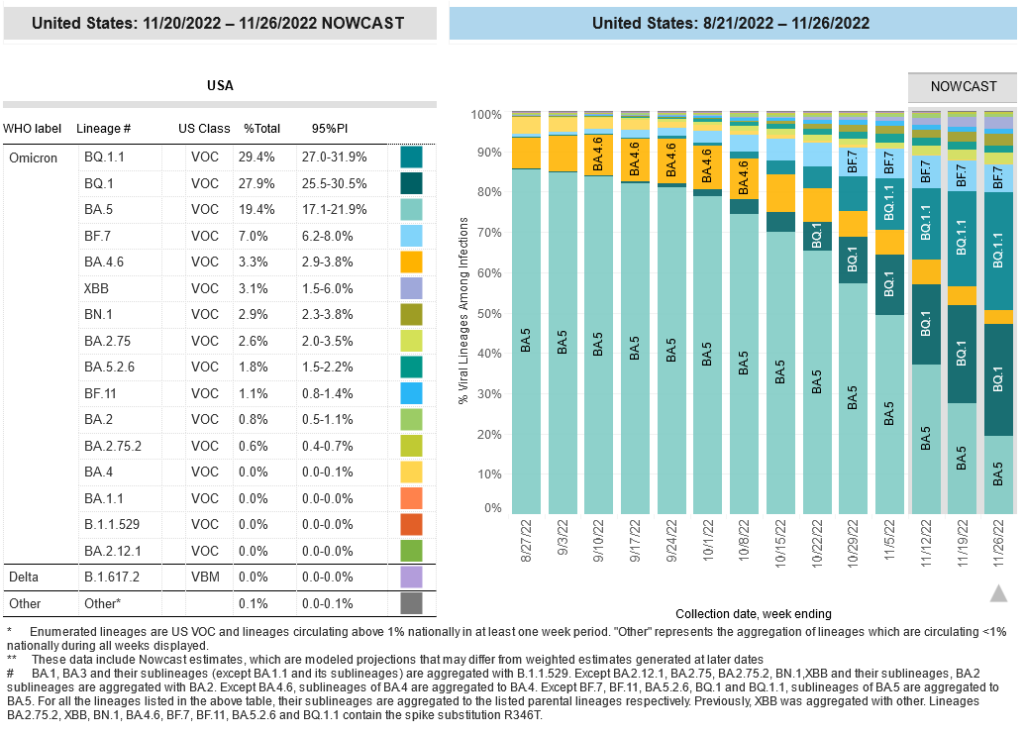 CDC and Other Federal Health Updates
CDC Awards More Than $3 Billion to Improve U.S. Public Health Workforce and Infrastructure (11/29/22)
The CDC is awarding $3.2 billion to help state, local, and territorial jurisdictions across the United States strengthen their public health workforce and infrastructure. This first-of-its-kind funding provides awards directly to state, local, and territorial health departments to provide the people, services, and systems needed to promote and protect health in U.S. communities. Everyone in the United States lives in a jurisdiction that will receive funding under this new grant.
The $3.2 billion includes $3 billion from the American Rescue Plan Act for jurisdictions to recruit, retain, and train their workforce, including critical frontline public health workers such as epidemiologists, contact tracers, laboratory scientists, community health workers, and data analysts. The funding also includes $140 million from a new appropriation for jurisdictions to strengthen and revitalize their public health infrastructure. Lastly, national partners will be awarded $65 million to provide training, evaluation, and other technical assistance to jurisdictions as they work to strengthen the services they provide and rebuild their workforce to help protect every American community.
Study on masks vs N95 respirators for health workers spurs concerns (11/29/22)
A study today in the Annals of Internal Medicine suggests that medical masks may offer similar effectiveness as N95 respirators in protecting healthcare workers (HCWs) exposed to COVID-19 patients in certain settings, but experts caution against that interpretation of the results.
The World Health Organization (WHO) recommends continuous wear of either medical masks or N95s when caring for COVID-19 patients, while the US Centers for Disease Control and Prevention (CDC) advises using N95s.
COVID-19 admissions to rise through early December, CDC forecasts (11/28/22)
The CDC is projecting an increase in COVID-19 hospitalizations for the first time since July, national disease modeling shows. Daily COVID-19 hospital admissions are projected to increase nationwide over the next four weeks, with 2,000 to 9,000 new daily admissions likely reported on Dec. 9, according to the CDC's ensemble forecast from 15 modeling groups.
As booster rates continue to lag, a collaborative government effort pushes for more jabs by year-end (11/28/22)
As winter sets in and Americans begin a season of travel, the Biden administration and the U.S. Department of Health and Human Services (HHS) are embarking on a new concerted push to get more shots in arms to protect against COVID-19. The Biden administration announced a six-week campaign to encourage Americans to receive an updated COVID-19 booster before the end of the year. In a press release, the administration stated that the push is most directed toward communities that have suffered the greatest losses due to the virus, including seniors.
The U.S. is 'certainly' still in a Covid-19 pandemic (11/28/22)
The nation's top infectious disease expert, Dr. Anthony Fauci, said the U.S. is "certainly" still in the middle of a Covid-19 pandemic. Fauci said between 300 and 400 people are still dying from Covid every day, and the uptake of the latest vaccine booster has been less than 15%.
Seasonal CDC FluView Data (2022-2023)
Note the state in dark blue and red that have very high flu rates at this time. Please take proper infection control actions in these areas.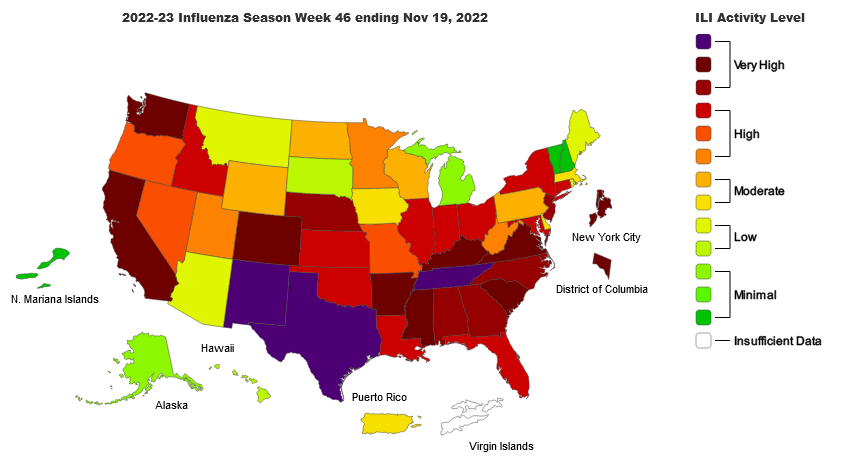 70% of US reports high or very high flu activity: 8 FluView notes (11/28/22)
Thirty-five states and regions are now reporting "high" or "very high" flu activity levels, according to the CDC's latest FluView report.
The following states and regions reported very high flu activity for the week ending Nov. 18: Texas, New Mexico, Tennessee, Mississippi, California, Washington, Colorado, Arkansas, South Carolina, Kentucky, Virginia, Nebraska, Alabama, Georgia, North Carolina, New Jersey, New York City and the District of Columbia.
Seventeen states reported high flu activity: Idaho, Louisiana, Kansas, Oklahoma, Illinois, Florida, Indiana, Ohio, New York, Maryland, Nevada, Oregon, Missouri, Utah, Minnesota, West Virginia and Connecticut.
The remaining states reported moderate, minimal or low flu activity.