11/18/22 – Weekly Covid-19 Update
CHAP's COVID-19 Weekly Update
In this "one-stop-shop" update, CHAP will provide a roundup of important COVID-19 information from various federal sources.
All health care providers should be monitoring COVID-19 incidence rates in their state/county on an ongoing basis. The Centers for Disease Control and Prevention CDC provides weekly data about case rates, deaths, testing, and vaccine administration on their COVID tracker webpage.
CDC Data

COVID-19 Variants by region
Locate county specific vaccination rates at COVID-19 Integrated County View
COVID-19 Variants by region – BA.5 is the dominant variant in all states; BQ 1.1 is gaining traction in the Mid-Atlantic and New England states.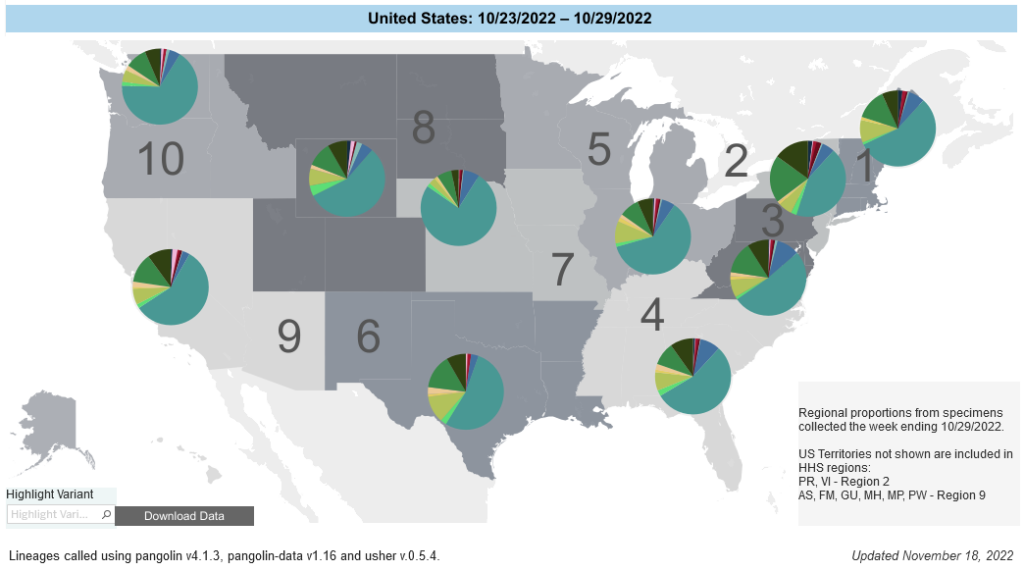 Variant Types – Map Key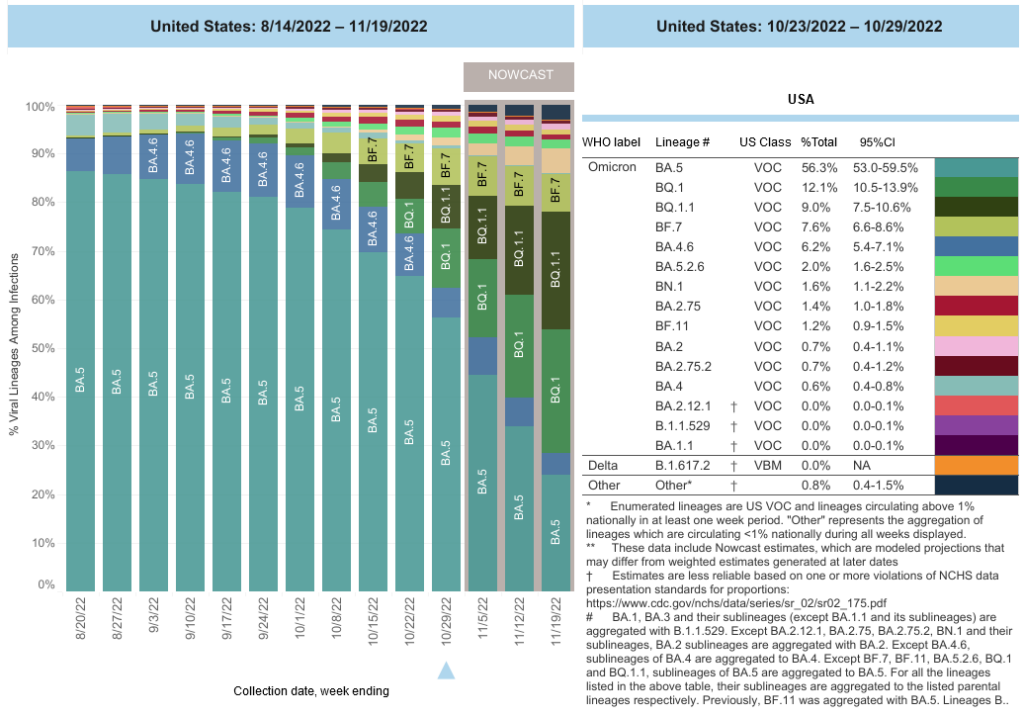 CDC and Other
Locate county specific vaccination rates at COVID-19 Integrated County View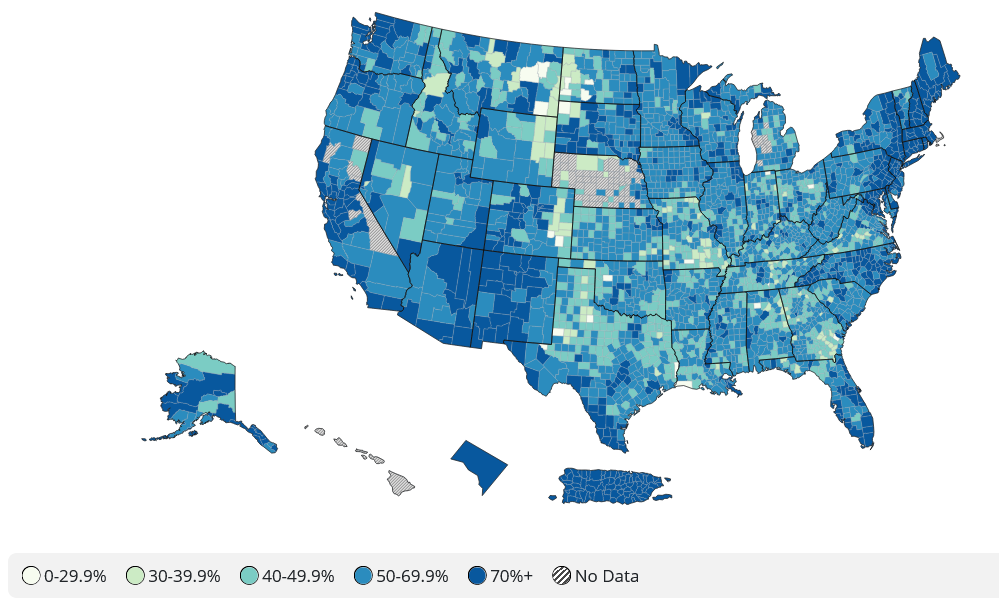 CDC and Other Federal COVID-19 Updates:
No 60-day Notice Issued from Feds (11/15/22)
The U.S. Department of Health and Human Services promised states a 60-day notice before lifting the public health emergency designation, which was last renewed through January 11, 2023. Friday, November 11, 2022, would have been the deadline if HHS planned to lift it.
White House Asks Congress for Additional Funding to Support the United States Response to COVID-⁠19 (11/15/22)
Excerpt from letter – "we need additional resources to ensure that we have the necessary services and supplies to keep the American people safe.  That is why we are requesting funding to help prepare for a possible winter surge, smooth the path to commercialization for vaccines and therapeutics, accelerate research and treatment for long COVID, and develop next-generation vaccines and treatments.  Because our safety depends on getting the virus under control everywhere, we are also requesting funding to combat the virus globally by supporting vaccine uptake and expanding access to treatments and testing.  Failure to provide more funding would lead to needless infections and deaths across the Nation and around the world."
Senate Votes to End Covid-19 Emergency Declaration (11/15/22)
Senate lawmakers voted on Tuesday to end the federal government's emergency declaration on the Covid-19 pandemic, a status that has given the Biden administration tools to combat the coronavirus.
The Senate voted 62-36 to end the emergency declaration nearly three years after it was invoked. It's unclear if the House will take up the measure.  President Biden threatened to veto any congressional efforts to end the national emergency declaration's status, said the Office of Management and Budget in a statement.
Ending the declaration would weaken the federal government's ability to respond to Covid-19 surges, OMB said.
CDC – COVID Variants BQ.1/BQ.1.1 Make Up 44% of U.S. Cases (11/11/22)
Some 4.3% of new COVID-19 cases nationwide are now linked to the BN.1 variant, according to "Nowcast" estimates released on Friday by the CDC. BN.1 joins a crowded field of emerging Omicron variant descendants that have swelled in recent months, overtaking the BA.5 variant that had dominated cases over the summer.
The BQ.1 and BQ.1.1 variants remain the most prevalent of the recent new strains. Close to half of infections nationwide are from one of the two, in the CDC's estimates.  Prevalence of the new strain is largest in the West, in the region that spans Arizona, California, Hawaii, and Nevada. 6.2% of new cases in that area, HHS Region 9, are from BN.1.
Seasonal CDC FluView Data (2022-2023)
Note the states in dark purple and red that have very high flu rates at this time. Please take proper infection control actions in these areas.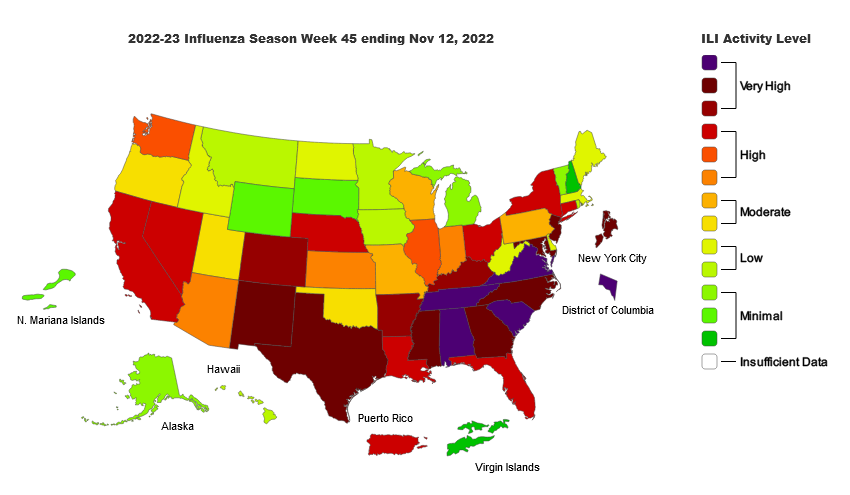 Last Reviewed: November 10, 2022, 11:00 AM
Source: Centers for Disease Control and Prevention, National Center for Immunization and Respiratory Diseases (NCIRD)
14 States Report 'Very High' Flu Activity (11/15/22)
The nation's flu positivity rate and hospitalizations continue to climb, with Southeastern and South-Central states reporting the highest levels of activity, according to the CDC's latest FluView report.
Fourteen states reported very high flu activity for the week ending Nov. 5: Mississippi, Alabama, Tennessee, Georgia, South Carolina, North Carolina, Virginia, Texas, Maryland, New Mexico, Arkansas, Louisiana, Kentucky, New Jersey. New York City and Washington, D.C., also reported very high flu activity.
Eight states (California, Colorado, Florida, Ohio, Connecticut, Nebraska, New York and Illinois) and Puerto Rico reported high flu activity for the week ending Nov. 5. Six states reported moderate activity: Indiana, West Virginia, Pennsylvania, Kansas, Oklahoma and Missouri. The remaining states reported low or minimal activity.
So far this season, the CDC estimates there have been at least 2.8 million flu cases, 23,000 hospitalizations and 1,300 deaths.