10/28/22 – Weekly Covid-19 Update
CHAP's COVID-19 Weekly Update
In this "one-stop-shop" update, CHAP will provide a roundup of important COVID-19 information from various federal sources.
All health care providers should be monitoring COVID-19 incidence rates in their state/county on an ongoing basis. The Centers for Disease Control and Prevention CDC provides weekly data about case rates, deaths, testing, and vaccine administration on their COVID tracker webpage.
CDC Data

COVID-19 Variants by region
Locate county specific vaccination rates at COVID-19 Integrated County View
COVID-19 Variants by region – BA.5 is the dominant variant in all states; BQ 1.1 is gaining traction in the Mid-Atlantic and New England states.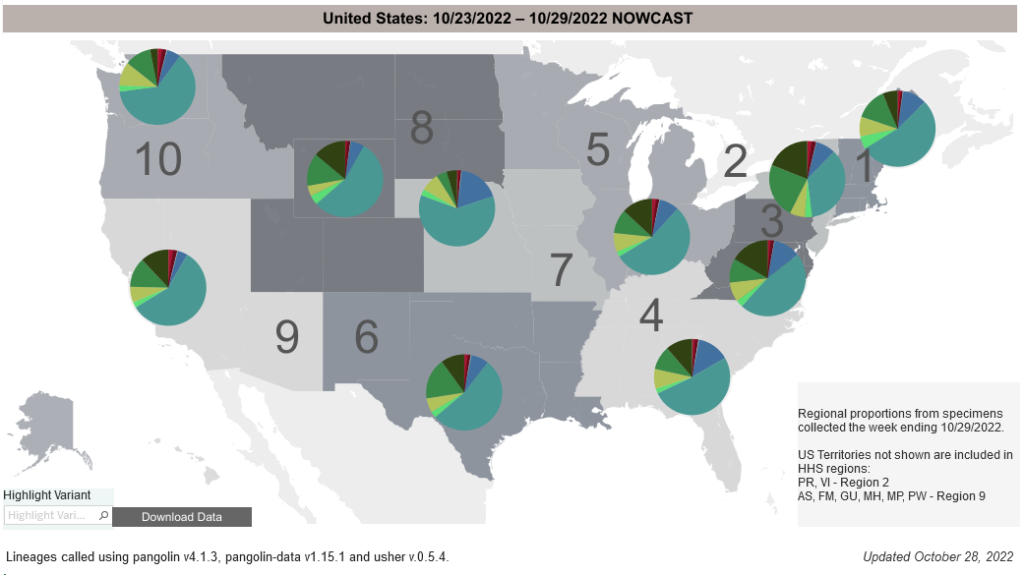 Variant Types – Map Key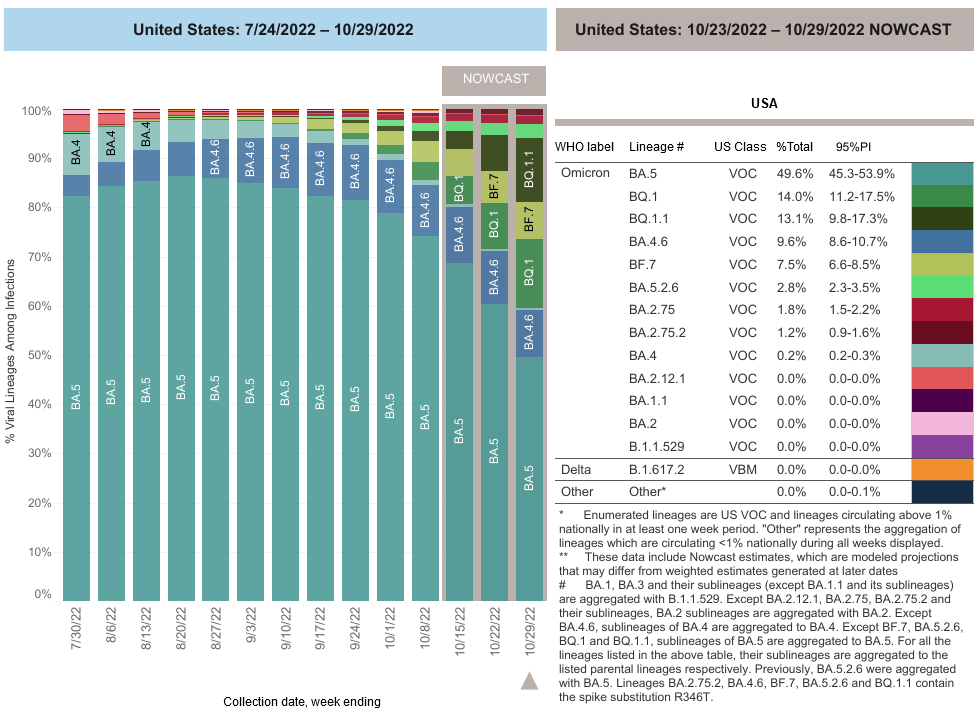 CDC and other Federal COVID-19 Updates:
CMS Updates Guidance Related Staff COVID-19 Vaccination Requirements (10/26/22)
CMS's Quality, Safety & Oversight Group posted Revised Memo on October 26, 2022, which provides revised guidance and survey procedures for all provider types related to assessing and maintaining compliance with the staff vaccination regulatory requirements. (Revised Guidance for Staff Vaccination Requirements (Ref: QSO-23-02-ALL))
The revised guidance and survey procedures is for all provider types related to assessing and maintaining compliance with the staff vaccination regulatory requirements.
This memorandum replaces memoranda QSO 22-07-ALL Revised, and QSO 22-09-ALL Revised, and QSO 22-11-ALL Revised to consolidate the information into a single memorandum.
The guidance in this memorandum applies to all states.
CMS is replacing QSO memoranda 22-07-ALL Revised, 22-09-ALL Revised, and 22-11-ALL Revised and is revising the interpretive guidance for all provider types found in Attachments A through N in the Memo. The revisions address frequency of review of the Staff Vaccination requirements, as well as Immediate Jeopardy, Condition-level and actual harm determinations to ensure that deficiency citations recognize good faith efforts by providers/suppliers.
Staff COVID-19 vaccination requirements have not changed. CMS expects all providers' and suppliers' staff to have received the appropriate number of doses of the primary vaccine series unless exempted as required by law or delayed as recommended by CDC. Facility staff vaccination rates under 100% constitute noncompliance under the rule. Noncompliance does not necessarily lead to termination, and facilities will generally be given opportunities to return to compliance. For example, a facility that is noncompliant and has implemented a plan to achieve compliance would not be subject to an enforcement action.
CDC Allows Novavax Monovalent COVID-19 Boosters for Adults Ages 18 and Older (10/19/22)
The CDC Director signed a decision memo allowing Novavax monovalent COVID-19 boosters for adults. This action gives people ages 18 years and older the option to receive a Novavax monovalent booster instead of an updated (bivalent) Pfizer-BioNTech or Moderna booster if they have completed primary series vaccination but have not previously received a COVID-19 booster—and if they cannot or will not receive mRNA vaccines.
The FDA Issues First COVID-19 Saliva Test EUA (10/18/22)
The FDA issued an emergency use authorization (EUA) for the first over-the-counter molecular test authorized for use with saliva specimens to Aptitude Medical Inc. for their Metrix COVID-19 Test, a single-use molecular in vitro diagnostic test for the detection of SARS-CoV-2. This test is authorized for non-prescription at-home use with anterior nasal (nares) swab and saliva sample, self-collected from people aged 14 years or older, or adult-collected from people aged 2 years or older, including people without symptoms or other epidemiological reason to suspect COVID-19. Negative test results from saliva samples are presumptive and negative test results from anterior nasal (nares) swab samples from asymptomatic individuals should be treated as presumptive. Negative test results do not preclude SARS-CoV-2 infection and should not be used as the sole basis for treatment or patient management decisions, including infection control decisions. Negative test results should be considered in the context of a person's recent exposures, history and the presence of clinical signs and symptoms consistent with COVID-19 and confirmed with additional testing, if appropriate.
HHS Announces Actions to Counter Biological Threats, Enhance Pandemic Preparedness, and Achieve Health Security (10/18/22)
The strategy and implementation plan detail a coordinated approach to address the challenges from naturally occurring, deliberate, and accidental biological threats. These threats are among the most serious threats facing the U.S. and the international community. The 2022 strategy builds on the 2018 National Biodefense Strategy, incorporating lessons learned during the COVID-19 pandemic, and laying out a comprehensive implementation plan with bold, concrete actions to transform our health security.
HHS, including the Centers for Disease Control and Prevention (CDC), the National Institutes of Health (NIH), and the Administration for Strategic Preparedness and Response (ASPR) will lead the implementation of a range of actions in the National Biodefense Strategy and its implementation plan, which integrates elements of the American Pandemic Preparedness: Transforming Our Capabilities.  HHS will draw on support from experts across the federal government, as well as provide expertise to support actions led by other federal departments and agencies.